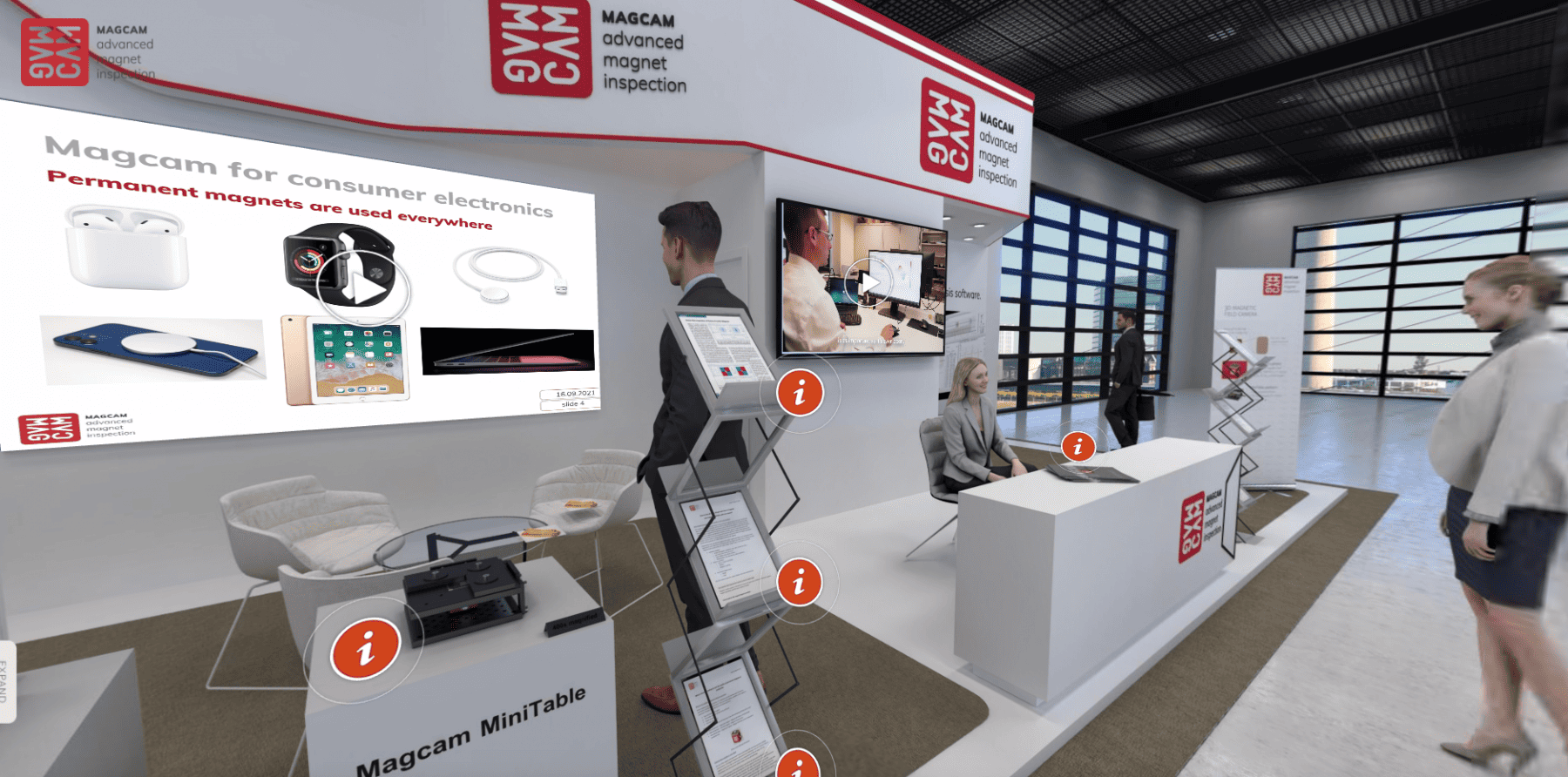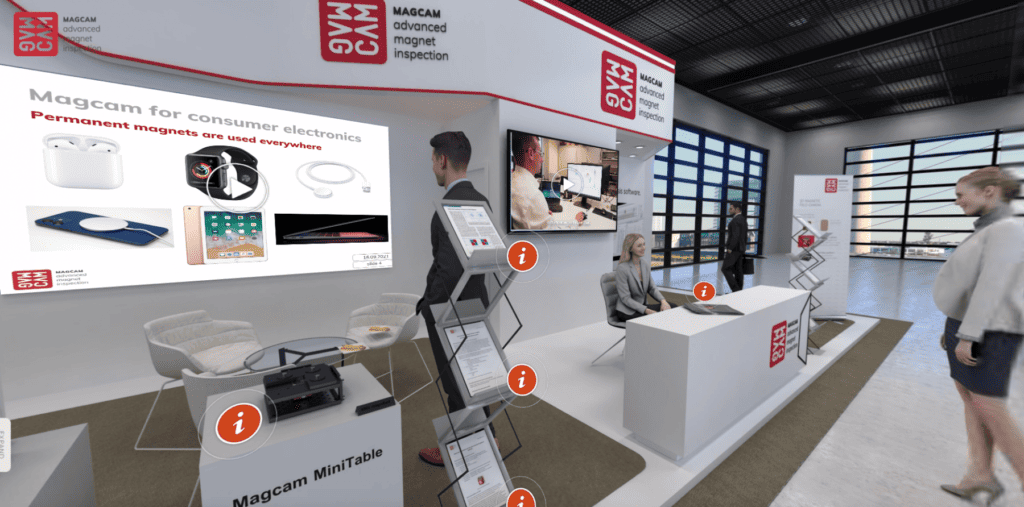 AddVideos Helps Magcam Create a Virtual Platform
Magcam wanted to increase its website stickiness and to improve the communication of its highly sophisticated products. Virtual booth helps them in the enforced absence of sales reps' visits and trade shows. We met our clients needs by creating a virtual exhibit booth using CAD-design. We integrate all their branding elements, videos, fact sheets and 3D-products to their virtual platform. It helped them to showcase their product range in an interactive way.
Benefits of the Virtual Platform
This virtual platform is 24/7 available on Magcam's homepage. It enables its visitors to pay a visit at their stand at the time of their choice. It also enables them to get in touch with their team. We also used 3D-product integration, as the client wanted to enlarge the size of its products. By this way, people would better understand their appearance.
"By launching this virtual booth, Magcam is one of those innovative and rapidly expanding companies thinking outside the box for their marcom strategies", said CEO of AddVideos, Phil Jordan. "Magcam knows that international trade shows fail attracting their regular international prospects and clients: such an immersive panoramic tour is definitely a cost-effective solution in the context of COVID and increased digitalization."
VP of Marketing and Biz. Dev., Luc van de Perre, explains that, "Most exhibition organizers offered very limited and basic online booth options in the past 18 months. We found it important to offer our customers and exhibition participants a true virtual booth experience. Even with physical events resuming, we anticipate it will take a while for visitor levels to resume to normal levels. Some of the conferences and exhibitions only attract local visitors, while we want to offer for interested individuals coming from other locations an opportunity to visit our interactive virtual booth to learn what they would have seen at a live event. In addition, we want to offer our website visitors the opportunity of informing themselves about Magcam and our products in other ways."
About Magcam:
Magcam, with headquarters in Leuven, Belgium, is a high tech company offering a unique Magnetic Field Camera (Magcam) measurement system. The Magcam magnetic field camera measurement platform is an advanced digital matrix magnetic field sensor. It measures three-dimensional magnetic field maps with high spatial resolution at high speed. The Magcam magnetic field maps are analyzed in real time using Magcam's powerful MagScope software. Magcam offers a product range consisting of measurement hardware, advanced data analysis software, automation software as well as measurement services, feasibility studies and development projects.
About Addvideos:
AddVideos based in Germany is a team of creatives offering eye-catching and informative solutions, which include virtual booths, virtual digital spaces, panoramic tours, real time animations, and video production services, everything to attract attention and generate business. AddVideos understands the applied value of quality content and outstanding presentation and has extensive experience working with international companies of all sizes and sectors that target deeper marketing reach, higher brand recognition, and better sales through attractive outreach and by promoting meaningful, engaging connections with clients.
Please visit the virtual booth of Magcam for more information.
Are you interested in having an interactive digital service similar to this one? Kontaktiere uns to learn more!