There are many ways to create a brilliant promotional video that puts your business in the spotlight. From having a clever script to using the right sounds and using state of the art technologies, all of these are crucial factors that can turn an average video into a memorable one. But when it comes to state-of-the-art video production technologies, 3D interactive animations are the way to go. In fact, according to many specialists in video marketing, 3D interactive animations are the future of promotional video content because of the way they connect the viewer and the product.
Curious to know more about this style?
What are 3D interactive animations?
Well, the definition of 3D interactive animations is quite easy to understand from the name – they are three-dimensional animations made in HTML, that the user can interact with in some way: either by touching, clicking, swiping, or by exploring them through a 360 view.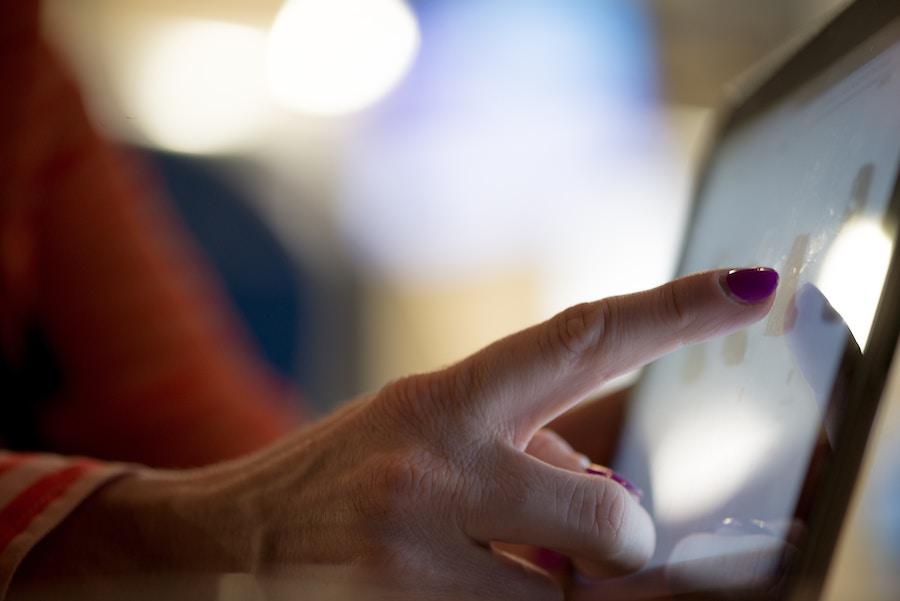 Made possible by the development of video creation and animation tools, 3D interactive animations can offer an incredible level of detail that wasn't possible before and that allows your clients to examine your product from all angles.
Of course, 3D animations have been around for quite a while now and they already are a favorite for marketing specialists who like to incorporate detailed visuals into their presentations. What sets this style apart, however, is the interactive component.
With 3D interactive animations, your clients can not only see your product, but also interact with certain elements of the video to further understand how it works and how it can benefit them. Let's say the client is viewing a video that shows a 3D animation of an engine. Thanks to the technology behind these animations, they can click on a link to learn more about what the engine does or tap on a part of the engine to zoom in and see its components.
We leveraged the functionality of interactive technology in this 3D video we made for our client Pandrol:
As you can see, the client can click on one of the six yellow elements and this loads a page where they can learn more about a specific company service. After viewing the page, they can go back to the main animation, where they can again click on another service. This video was shown by our client at the Innotrans Trade Show in Berlin, which helped participants learn about their services in an interactive way.
Let's have a look at other examples of how brands used interactive animations to promote themselves:
Panasonic – Bettertopia
Panasonic created a digital city, Bettertopia, where clients can see how Panasonic products support and enhance the lives of people and businesses. As the user enters the world, the cursor turns into a magnifying glass that they can use to navigate the city in detail. Some areas of the city are interactive; the user can click on those, and this takes them to a page about a relevant service. For example, clicking on a shop in the city leads to a page about Panasonic retail shop solutions.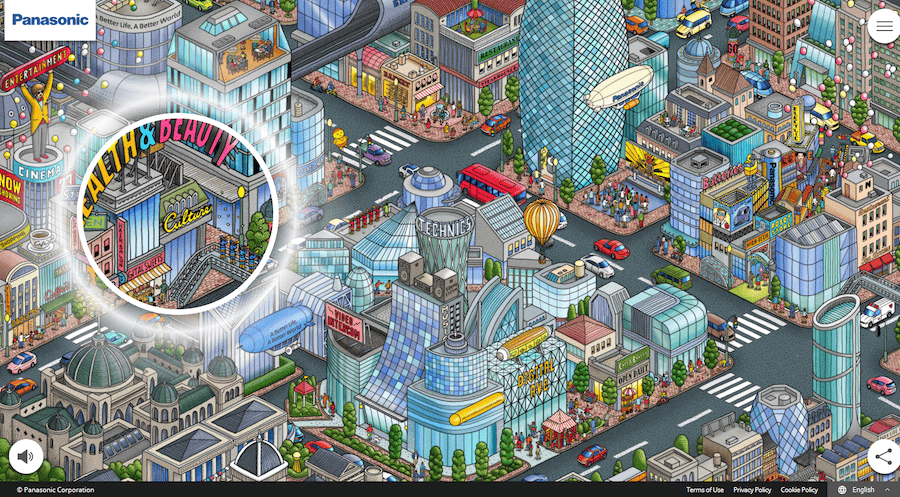 Mace.world
Visitors of this website can explore each of the seven districts of Mace World and discover 60 key project stories. When clicking on a part of the city, the user experiences a flythrough with a zoom-in effect and then they are taken to a page where they learn how this company completed various infrastructure projects.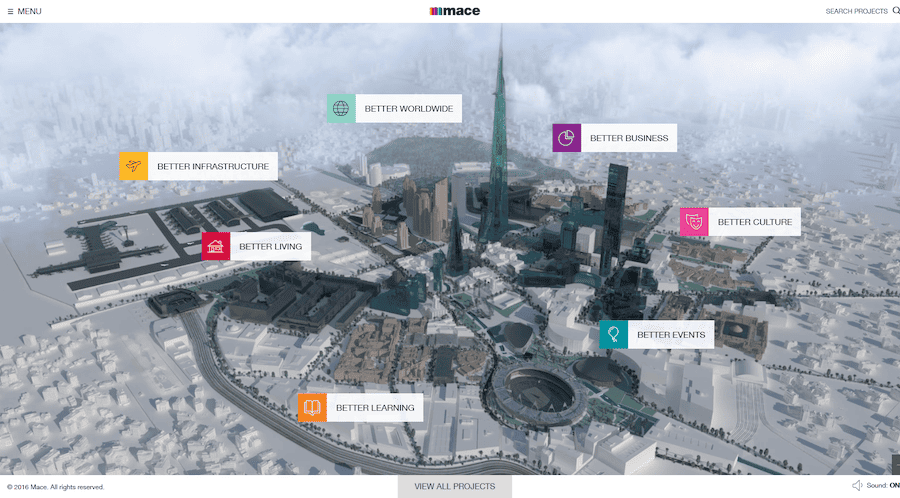 NASA Home & City
In this cool animation from NASA, you can move the animation of a home manually and look around the room with a 360 view. If you click on the kitchen, for example, you experience a zoom-in effect and you can interact with various objects to learn more on how they can sustain the planet.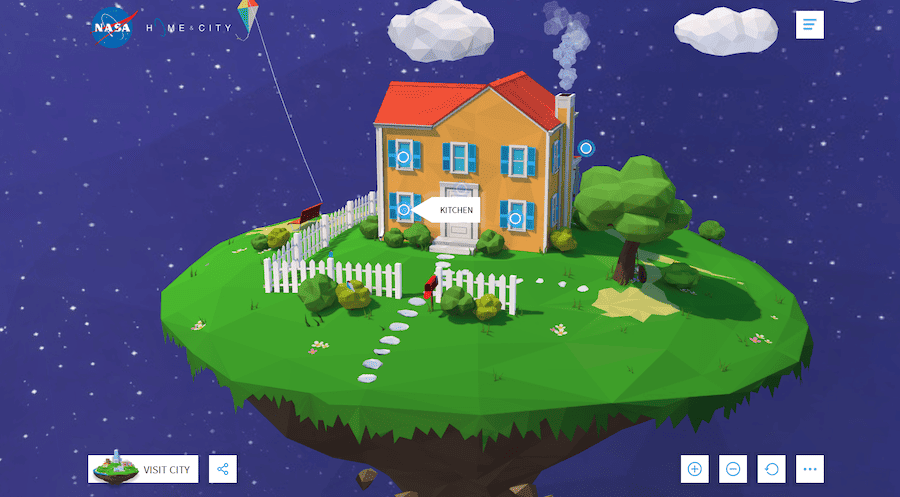 We can then see the same type of animation for the City version, where the visitor can click on buildings such as airports or factories to learn about the technologies of the future.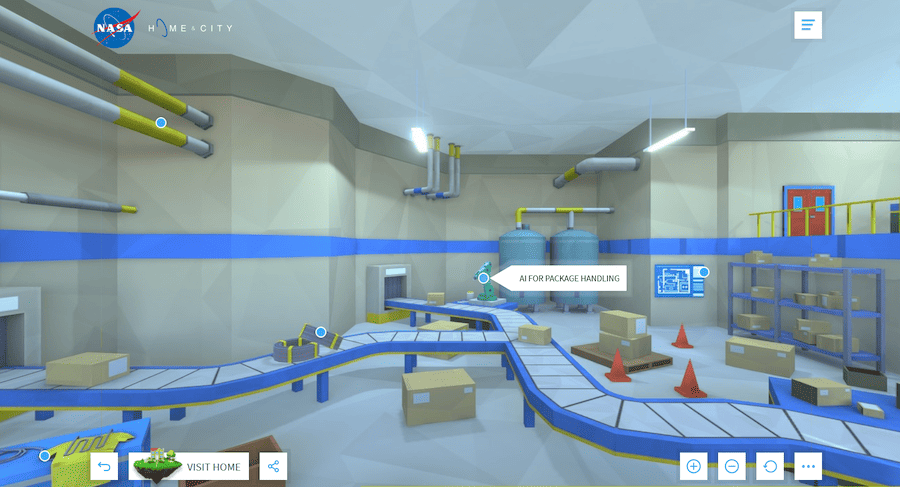 Uses of 3D interactive animations
The uses of 3D interactive animations aren't limited to the tech & industrial examples above. In fact, they are recommended for all fields of activity and they can help you with some marketing benefits too:
Enhance your brand image
The technologies you use to promote your business have a great influence on how your brand is perceived by the public. Being one of the latest and most innovative video production techniques, 3D interaction does inspire a sense of futurism. It tells customers that you are up to date with new technologies, that you are willing to invest in your image and it makes you appear as high-end and professional.
Explain how products work
People are visual learners and sometimes you shouldn't give your clients lengthy leaflets with technical specifications when you can explain the same concept in a fun and user-friendly way. The imaging capabilities of 3D interactive videos even allow you to showcase complex or technical concepts (see the engine example from before) in a more approachable, easy to understand way. Virtual tours are also popular in the hospitality industry. Hotels are increasingly offering online tours on their websites, in an effort to increase booking revenue by providing online viewers with an immersive view of the property and its amenities.
Help clients understand a product that hasn't been built yet
You do not need a working prototype to create a fantastic 3D animation. All it takes is a digital mockup and video production experts can help you create an animation you can show to clients or investors before the prototype is ready. This technology offers a helping hand to city planners, architects, interior designers or real estate developers.
Keep clients engaged
If there's one thing that modern clients have in common, it's that they are always in a hurry and you only have a few seconds to draw their attention. Keep in mind that the average person interacts with hundreds of promotional messages every day, both online and offline. From billboards and flyers to push notifications, video ads and newsletters, they are assaulted by messages from brands and at one point they tune them all out. A well made interactive animation will stand out from the rest, draw their attention and keep them engaged, which ultimately leads to an increase in sales.
Boost your marketing
Apart from helping customers learn more about your brand, 3D interactive animations have a great marketing value, because you can use them for promotion across various marketing channels. You can upload them on YouTube, incorporate them on your website, or share them on social media.
3D interactive animations at trade shows and exhibitions
No matter what your field of activity is, every year you will have to allocate quite a few days to going to trade shows or exhibitions. Despite the rise of digital marketing, these events are still highly effective and they create great networking opportunities for clients and providers. However, you really have to do your homework before going to a trade show. You are a spokesperson for your company and you need to make your presence known in the best way you can.
Here's how 3D animations can help:
They are highly used on touch screens, which can be placed at the company's reception at the trade show. This saves time because visitors can interact with the video themselves and see what the company offers without the promotional staff needing to approach them. The sales team can also have the video on tablets in case visitors want to know more. In a way, interactive animations can work as a passive means of business promotion, because they attract visitors without the participation of the sales staff.
Visitors can figure out the globality of the company at a glance. In fact, many executives who use interactive videos discovered that their clients only knew a portion of their activity and ignored some others, which may have interested them, as well. Interactive videos allow you to showcase your entire corporate activity, but not in a way that is tedious and time consuming. Visitors have all the information they need at their fingertips and they can choose to discover various things about your company in whichever order they prefer.
These animations are also incredibly versatile. You can use the same animation at different specialized trade shows without the need for adapting the animation every time. For instance, a company producing semiconductors used for space programs, aeronautics, naval equipment, automotive, medical and renewable energies will still be able to use the same animation despite trade shows being specialized into each of those verticals. This also makes them value for money, because you don't have to create multiple animations for every tradeshow you're going to. You won't have to experience the uncomfortable scenario of deciding to go to a tradeshow at the last minute, but not having enough time to put something together or having to pay a higher price for quick delivery. Interactive animations are not only used at the tradeshow's booth of the company, but can also be used at the company's reception, and/or at its showroom, and/or for the sales team when visiting their clients with tablets.