Despite the initial skepticism, virtual showrooms have proven to be a solid marketing tool that can help businesses gain exposure and stay relevant not only during the COVID-19 pandemic but also beyond it. Just like physical trade shows, they can bring your business in front of millions of potential clients, but without requiring unreasonable costs or being a nightmare to set up.
Another thing that virtual showrooms and physical trade shows have in common is their huge potential for brand advocacy. In the same way that a website is a crucial component in your branding strategy, so is a virtual showroom,. At present, the future of trade shows remains uncertain, and we may not see those crowded halls for years. However, we will be seeing much more from virtual showrooms, so the more you learn how to optimize and improve your showroom, the stronger your brand will become.
In the past, it was really common for a trade show participant to become a paying customer because they had a fantastic experience with a certain brand: they liked the design & layout of the showroom, the business representative was particularly polite and helpful, they won a prize, or they received free merchandise. All these "small touches" showed attention to detail and a customer-centric approach. The good news is that by transitioning to a digital-only or hybrid approach, you won't miss any of these perks. Virtual showrooms can drive engaging customer interactions and, just like land-based trade shows, they can still strengthen your brand.
Here are five practical branding strategies that are compatible with virtual showrooms:
1. Offer special offers to virtual showroom visitors.
People need an incentive to visit virtual showrooms, and special offers can be one of these incentives. If your virtual showroom is part of an event, advertising the special offer before that event can build hype and maximize the number of attendants. You can tease the special offers on your blog or social media profiles, and this way, you can get some shares and mentions too. As for the offers themselves, these can be almost anything, depending on the nature of your products and services: free demos, subscription discounts, free testers, free consultations, etc.
2. Organize contests and giveaways
Contests and giveaways are extremely popular online. They were surefire marketing strategies pre-pandemic, but now that many client-brand interactions take place online, it's no wonder their lead generation and branding potential has grown. According to HubSpot data:
33% of contest participants are open to receiving information about the brand that organizes it.
Contests have one of the highest conversion rates (34%).
Nearly 95% of content participants share the promotion immediately after registering.
On average, a brand gains 17,500 social media followers after throwing a contest or giveaway.
During a virtual event or webinar, you can encourage participants to share a link to your showroom or website using certain hashtags, and the winner can receive a special prize. This will generate more visibility for your brand, increase the chances of gaining new customers, and also gain you data.
In this prototype, you can see an example of how to integrate contests into a virtual showroom. Here, the digital exhibitor offered a present to visitors who found Easter eggs: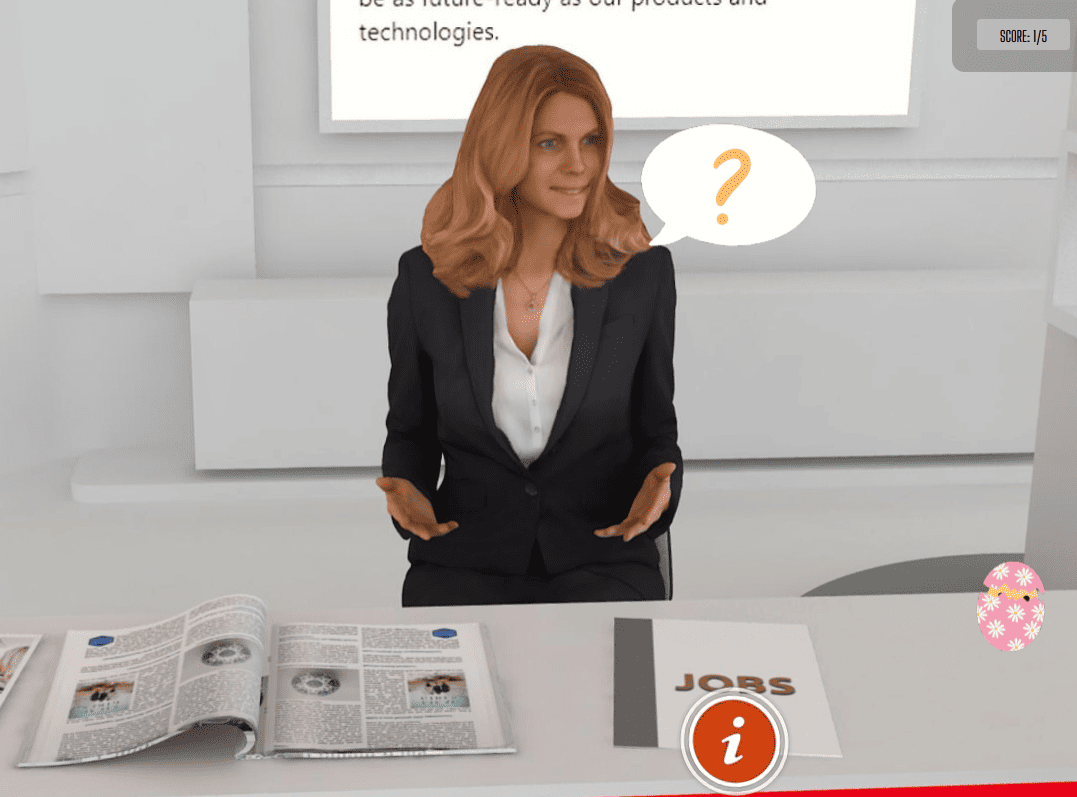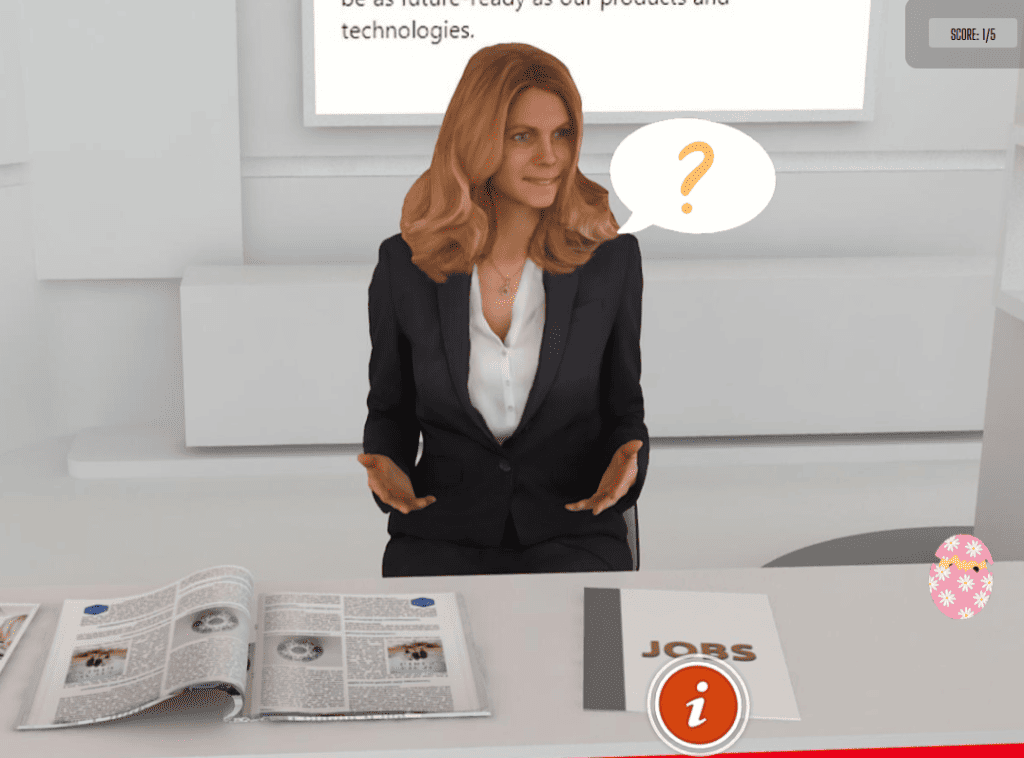 3. Include user-generated content (videos, testimonials, etc.)
Every professional virtual showroom should include high-quality graphics, compelling product descriptions, and other elements that boost engagement, which we've talked about in more detail here. All of these are essential to making a good impression.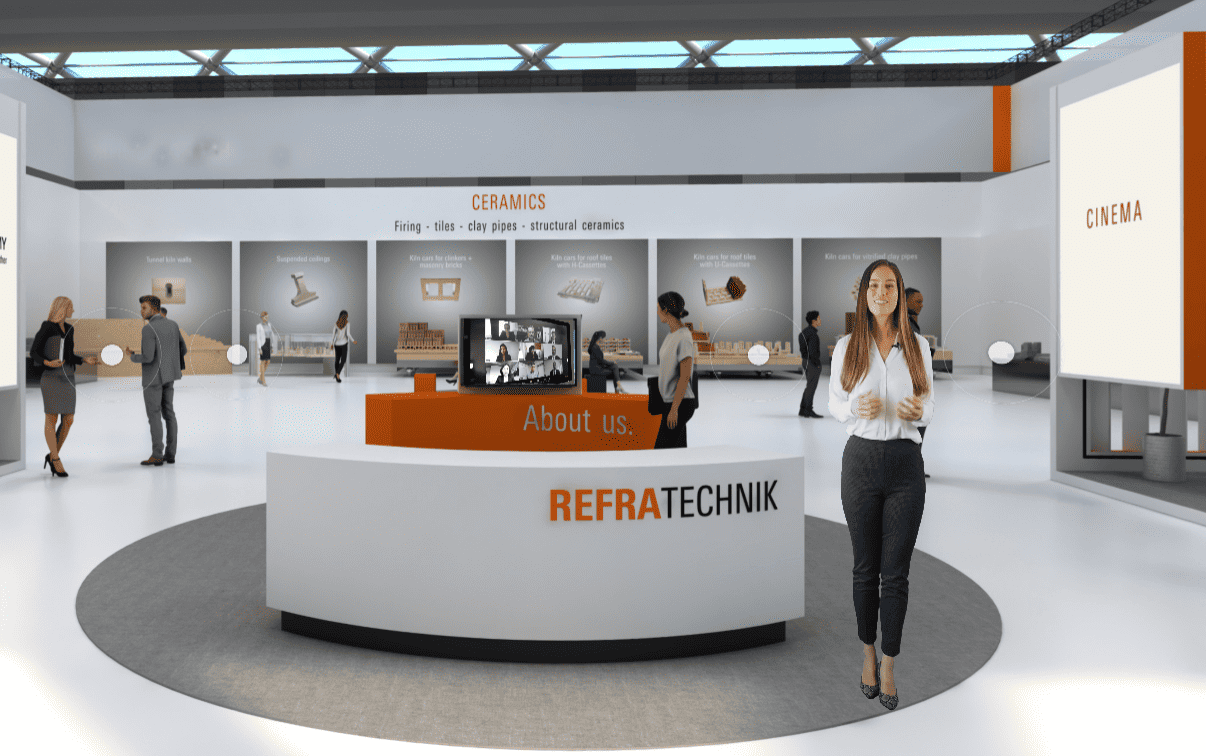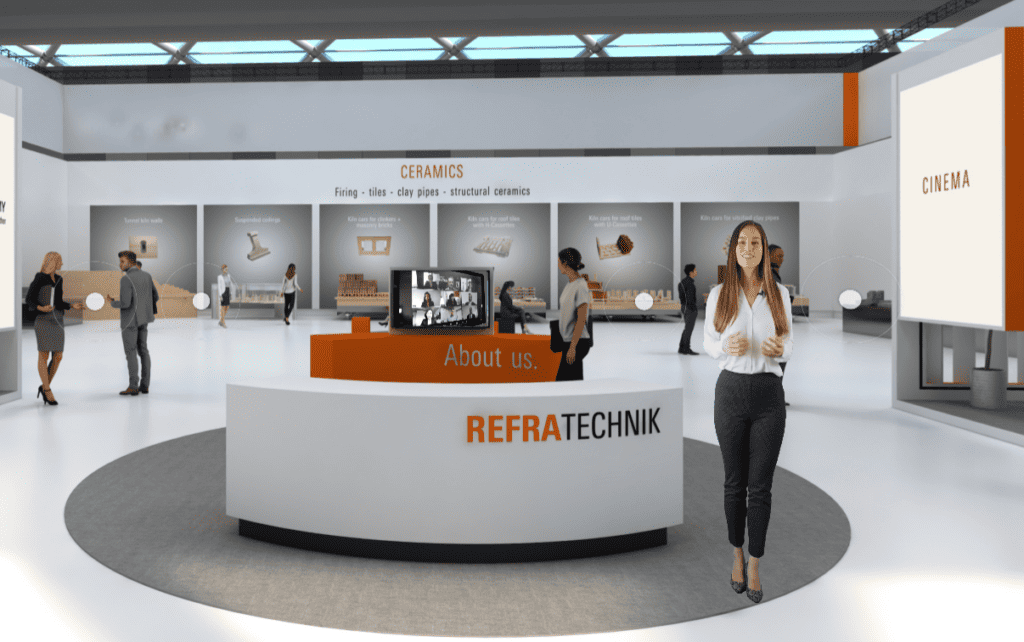 However, brands also rely on social proof to build credibility, and one of the best ways of doing that is to add user-generated content to your virtual showroom. User-generated content is basically any form of content created by your clients: photos, videos, text testimonials, social media posts, and so on.
Unlike brand-generated marketing messages, which are inherently biased and may be regarded with skepticism, user-generated content comes across as more trustworthy because it shows real proof of your brand's qualities.
Before launching your virtual showroom, you can get in touch with past and existing customers and ask them to share their experience with your brand, in whichever format they feel comfortable: a photo of how they used the product, a video explaining how it helped them, or just a few short sentences. Alternatively, together with your marketing team, you can pull up user-generated content from your website, social media, or review websites (Yelp, Google Reviews, etc.). Then, when establishing the showroom layout and features with your virtual showroom provider, you can discuss ways of integrating this content.
4. Showcase your virtual showroom when talking to potential clients
During meetings with potential clients and business partners, it has become common practice to bring with you some kind of brochure, leaflet, or presentation other than your website. Now that face-to-face meetings are replaced with online meetings for safety or practical reasons, virtual showrooms can do a much better job. Not only do they look more thorough and more professional, but they explain your unique products and services much better than a brochure or website ever could.
The example below is from a company that, previously to virtual showrooms, used to transport products, even heavy equipment, to the venues where they were exhibiting. This cost a lot of money, not just because of the logistics, but also because the company had to pay for security and personnel who had to be there to welcome visitors. They also needed large spaces in order to showcase their products, and they had to do the same for every other trade show where they were exhibiting. Now, thanks to virtual showrooms, they had a presentation of their products done once, and they can show it everywhere. The showroom is live 365 days/year, and showcases their products for clients all over the world.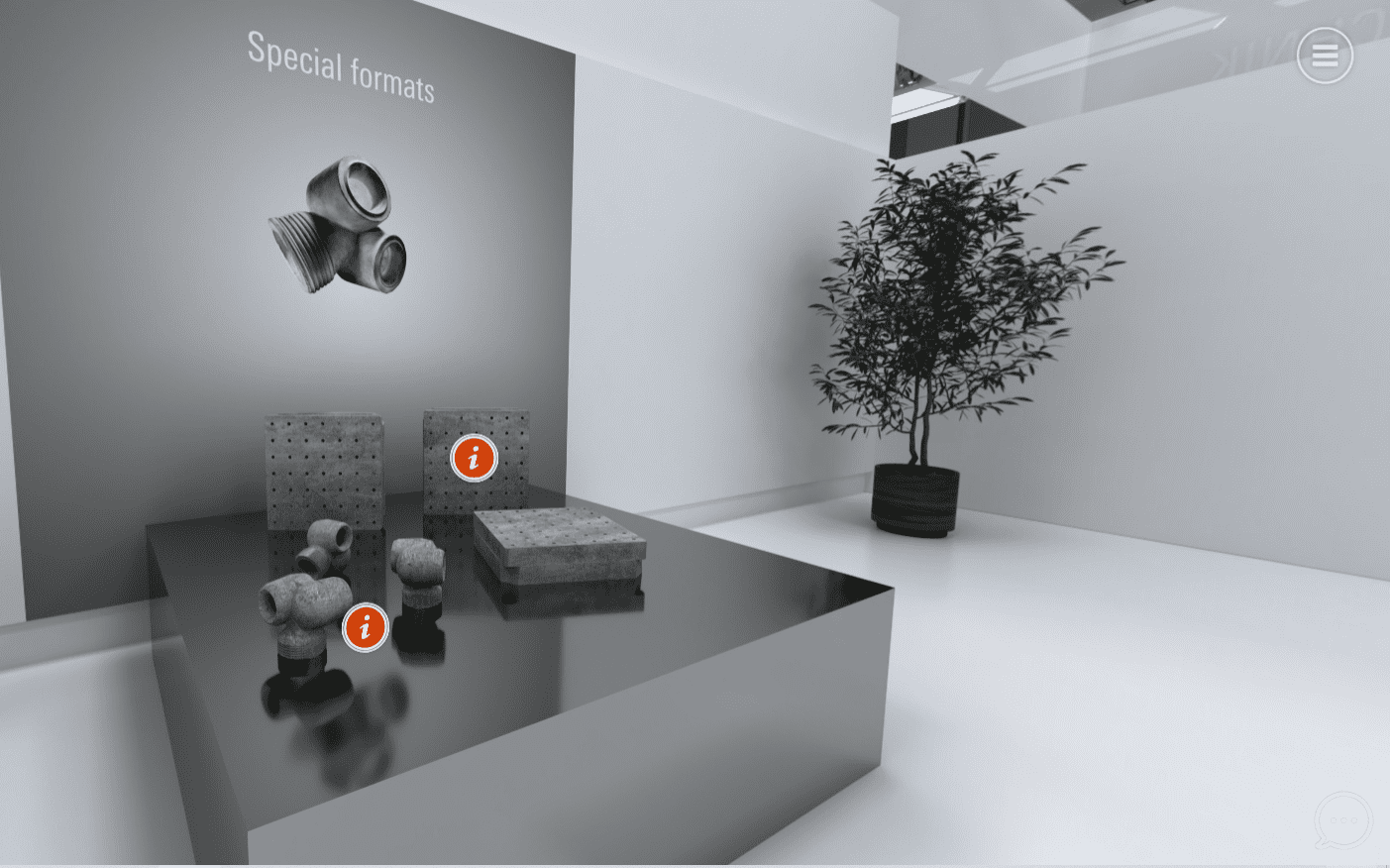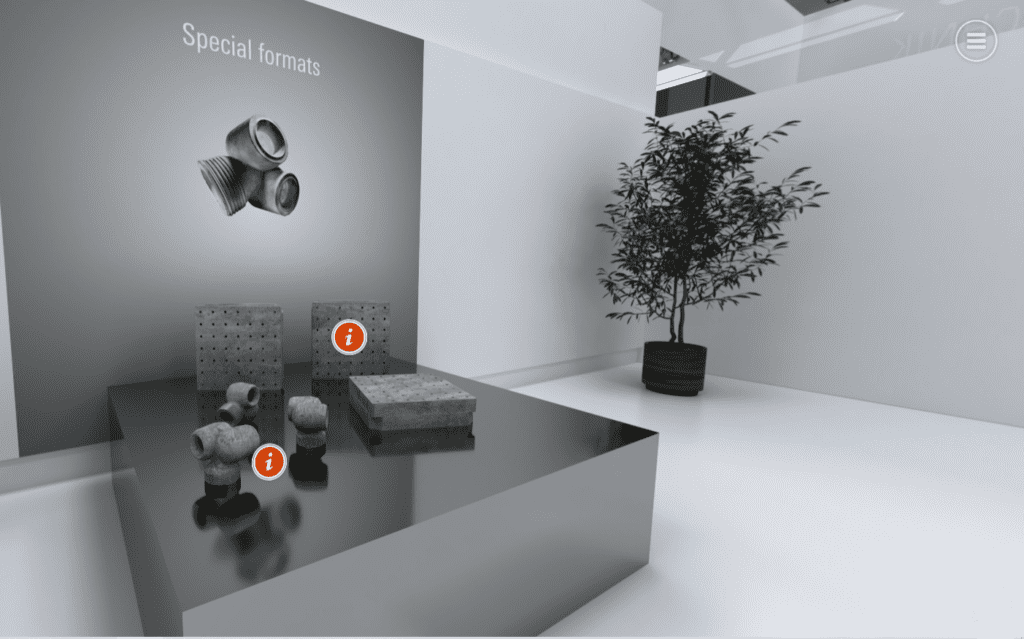 5. Your employees can become brand ambassadors.
Customers play a major role in building your brand, but they're not the only ones who can do this. Your team can also help. As employees, they know your brand better than anyone, and they can have a bigger reach than customers. By getting them involved and asking them to promote your showroom, even while working remotely, you can further strengthen your brand and gain more exposure.
For instance, one of our clients has been using their virtual showroom to train hundreds of sales representatives all over the world. Then, these sales representatives will then use the virtual showrooms to organize live guided tours with each of their thousands of clients worldwide.