Virtual showrooms are here to stay. Whether you're looking for a substitute to trade shows or you want to add something extra to your marketing strategy, virtual showrooms allow for infinite creative possibilities and they can help your brand stand out from the crowd.
Even though virtual showrooms aren't exactly new, they only recently entered the spotlight so, for many people, they're a bit of a dilemma. They definitely look great, but, once a showroom is complete, what can you do with it?
We get a lot of questions about how virtual showrooms can be advertised, so we thought of publishing a small guide on all the fantastic ways in which you can integrate virtual showrooms into your existing marketing strategy.
1. Promote your showroom on social media
Social media is a marketing powerhouse, allowing you to reach out to millions of people all over the world at the same time. And, by sharing your fresh new virtual showroom there, you can ensure all your followers see it.
LinkedIn
LinkedIn is great for making professional connections, which is why it's one of our preferred platforms when it comes to advertising virtual showrooms. One effective strategy is your sales reps to send messages using relevant hashtags to their first-level contacts, or you can post in existing professional groups that you are a member of. You can also create new professional groups, such as this one, and there you can create events and invite others to join.
Xing:
Xing is a career-oriented social networking site that has been gaining a lot of traction lately and that you shouldn't neglect when advertising your virtual showroom. Here, you can create an event and invite others to join. This service is fee-based, but it only costs a few euros.
Twitter
Twitter is the perfect social network for announcing the launch of your virtual showroom or sharing screenshots of it to get followers interested. Here are a few examples of how our clients have shared virtual showrooms on Twitter: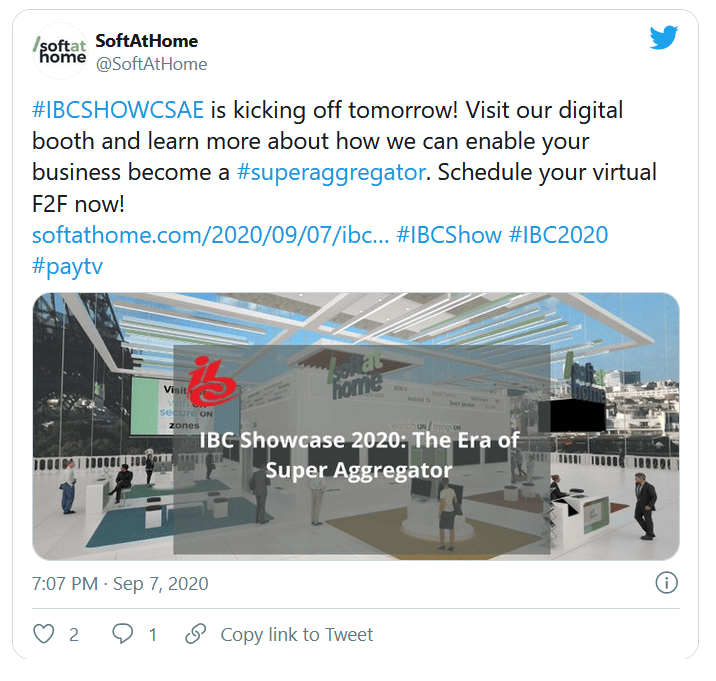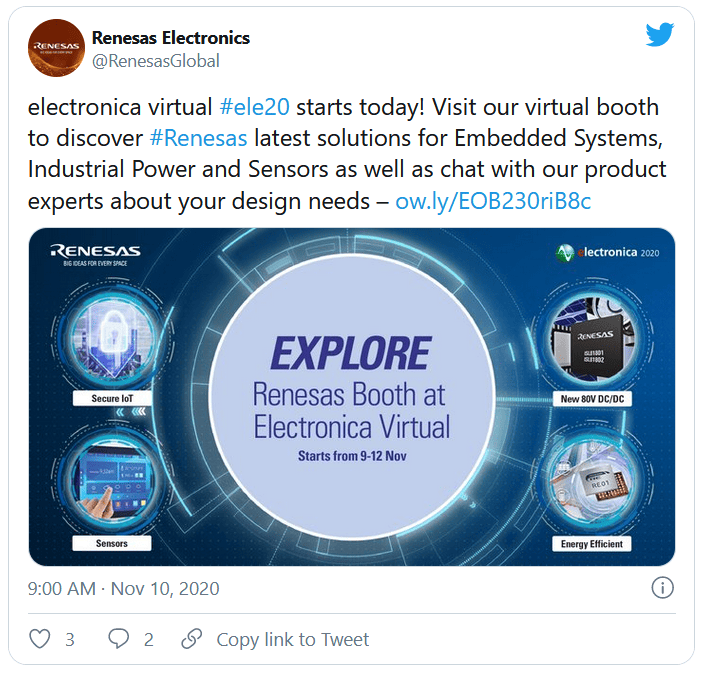 2. On your website's homepage
As opposed to a brick-and-mortar showroom, which lasts only during the time of the live fair, virtual showrooms can be used 365 days a year, 7 days a week and 24 hours a day! So, one of the easiest things you can do is promote your showroom directly from your home page, like our client Kioxia has been doing since 2020: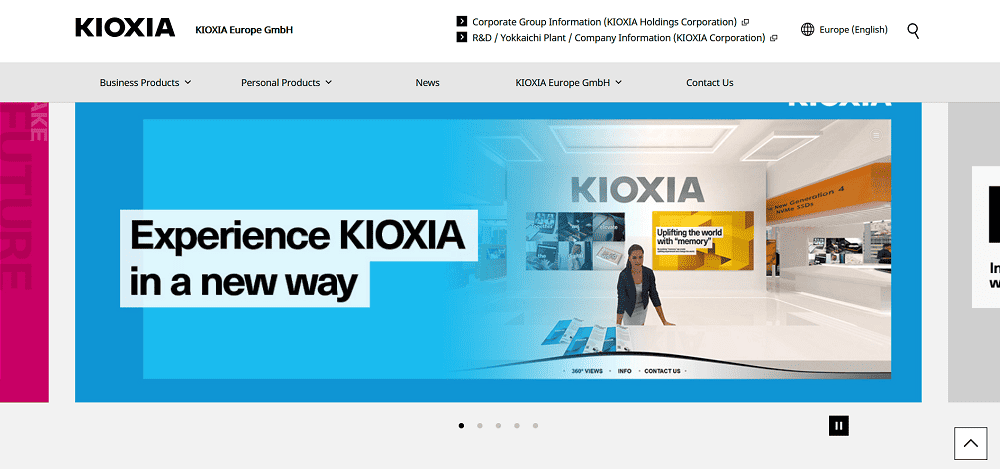 3. In your news/website blog section
Your website blog is a great space to share exciting news about what your company has been up to. The launch of a virtual showroom is quite an important event, so this is the perfect occasion to publish a post. When writing this post, don't forget to link to the virtual showroom and capture the readers' interest by adding screenshots, describing its best features, and sharing a few tips on how to best navigate the showroom.
4. Sending info via your newsletter
Email marketing continues to be a powerful digital marketing tool. If you have a newsletter, don't forget to add some info about the showroom in it. Ideally, you should announce the launch several weeks in advance, perhaps even include a countdown, remind your clients about it one day before the launch, and then keep posting updates about it after launch to preserve the momentum.
5. Adding a link in your associates' signatures pointing to your virtual showroom
Although it's just a small signature, this can help you gain more exposure, since your associates have their own network who can view your showroom.
6. Doing AdWords prior to an event and leveraging the event's name as keyword
Ads are an inexpensive, yet effective way of promoting your virtual showroom. Simply select the event's name as the keyword, and make sure the ad URL points to the showroom's page. The best part about this strategy is that these ads will be viewed by people who are interested in virtual exhibitions, so the chances of them viewing your showroom are higher.
7. Using video teasers pointing to the showroom's URL
Teasers generate interest in your showroom before it's even launched and keep your clients wanting more. Our client Kioxia created a series of six-second videos that point to the showroom's URL, which helped them raise awareness (You can view them here et here).
8. Doing a press release and posting it worldwide
Although press releases are a more traditional way of announcing company news, they are still highly efficient and demonstrate professionalism. Plus, press releases have SEO benefits, since they are posted on high-authority platforms, so your showroom may rank higher in search engines too. Posted on your website, press releases also have sharing potential on social media.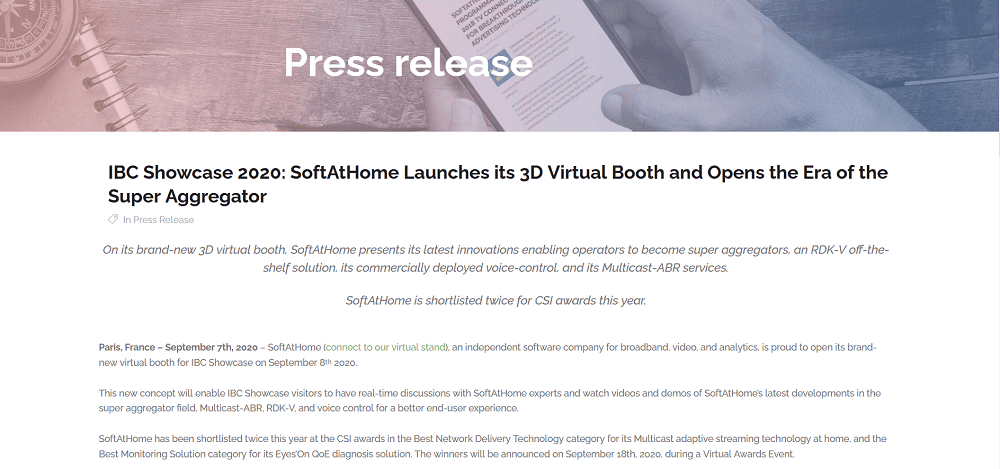 9. Promoting the virtual showroom during your webinars
Webinars are a great way of educating your clients while also boosting engagement and promoting your company. By integrating a virtual showroom into the webinar, you can get even more benefits.
10. Regular emailing to existing prospects and clients four weeks and one week before the event starts and/or the showroom is live
Quite often, clients would like to visit your virtual showroom, but they forget about the launch date. To avoid that from happening, you can send them regular email updates: four weeks before the showroom goes live, and then one week before.
11. In leading online magazines
If you operate in a niche industry, one excellent way of promoting your showroom would be to write about it in a leading online magazine or blog. Since these blogs have an active online following, who is always looking to stay up to date with the latest news, there's a big chance that they will learn about your company and contact you. You can also try this with a bigger online magazine if you have a big enough network but, in general, the more targeted the magazine readership is, the higher the chances of getting your message to people who are interested in attending (also known as qualified leads).
12. During the digital event itself:
If you will be using your virtual showroom as part of a digital event, you can promote it during the digital event itself. Although some technology platforms say that exhibitors' virtual showrooms cannot be embedded in the company profile, they actually can. In fact, doing so can be more effective because the showroom attracts more attention and people actually spend time discovering what your company does. One of the biggest problems with company profiles on digital event platforms is that they all tend to look the same (basic company info, featured video, services description, all set against a poor 2D design), and even though you spend time and money on populating your profile, people might spend less than a minute reading it. With virtual showrooms, your profile automatically stands out.
13. Ask your digital event organizer to organize a public vote for the best virtual showroom
This contest exists for live events with brick-and-mortar exhibit showrooms, so this is something all exhibitors are aware of.
14. In the event's news section
This advertising method is similar to posting about the showroom in your news section, but by posting about it in the event's news section, you gain even more exposure. Here is an example of how VARTA announced their showroom in Medica Magazine.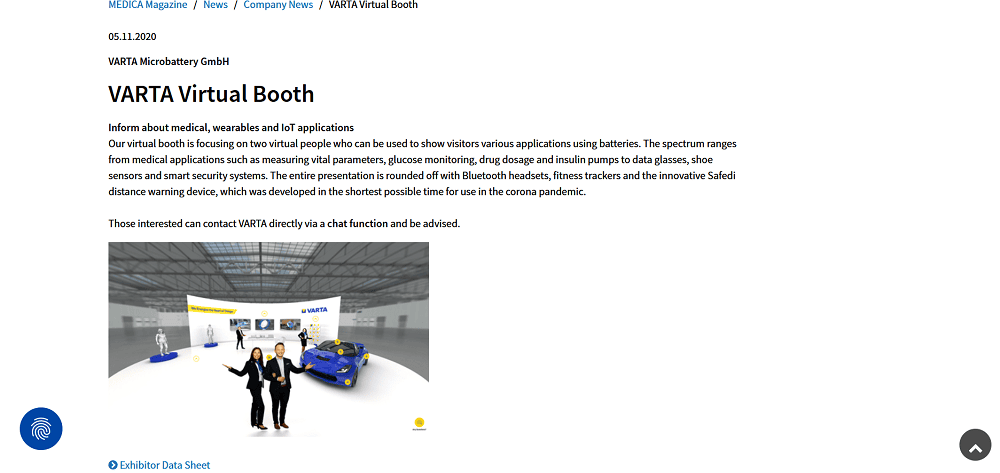 15. Your Sales or HR team can use them
There is no better way to use a virtual showroom for engagement but to have your own company reps use it for achieving their own objectives. For instance, your sales reps can organize virtual meetings with their prospects and existing clients directly on your company's virtual showroom, and explain to them your newest released products, live. Also, your HR department can leverage the potential of your virtual showroom to discuss with candidates interested in your company's vacancies. To do so, involve your teams at the early stage of the showroom development so that they can slowly get familiar with all the benefits and features.