Einführung
After losing millions due to the pandemic, the international trade show industry is trying to catch up, but the market isn't quite ready to get back to the old practices. In the past months, there have been a few attempts at restoring in-person events to their former glory, but while we are all happy to see things slowly returning to normal, the results did not paint a positive picture so far.
The pandemic shook the very core of event marketing. Working from home became a reality, most people are still hesitant to travel, even for business purposes, and organizers have to respect a series of strict health & safety guidelines. Because of these factors, the latest international live trade shows have failed to attract enough international visitors and rather more local participants, lowering the quality of well-known exhibitions, and making exhibitors wonder if the already high attendance costs are worth it.
The IAA21 Mobility Trade Show in Munich
Toyota, GM, Volvo, and others declined to join the IAA21 Mobility Trade Show in Munich
One example comes from the IAA21 Mobility Trade Show in Munich. The first major trade show in Germany to be open to the public after the pandemic. Advertised as a fresh start for the auto show industry, the IAA Mobility was a hybrid trade show, but not in the traditional sense. The organizers organized the auto show on exhibition grounds and in various locations in downtown Munich. Instead of having attendees join both physically and virtually. However, this approach was rather controversial, with auto experts. They were arguing that the focus was no longer on the cars, and thus the concept of auto show lost its meaning.
Skepticism Among Automakers
Automakers seem to have shared the skepticism. Apart from German car manufacturers Volkswagen, BMW, and Mercedes-Benz, the IAA21 Mobility Trade Show failed to attract international exhibitors. Only Renault-Dacia, Hyundai, and several Chinese manufacturers were present. Toyota, General Motors, Volvo, Ferrari, and Rolls-Royce were not present this year.
This used to be a premium event, and this year they opened more to local citizens, gaining around 400.000 visitors. However, organizers (Messe München) did not mention how many of them actually visited the trade show in Munich, as opposed to the digital visitors, who never came to the Bavarian's capital. The more digital visitors, the fewer the number of physical visitors, i.e. the lowest the exhibitors' return on investment for renting space, building a booth, and moving staff and products in a trade show venue: assuming 50% of them were digital visitors, this IAA 2021 recovery event would be a significant failure for the organizers.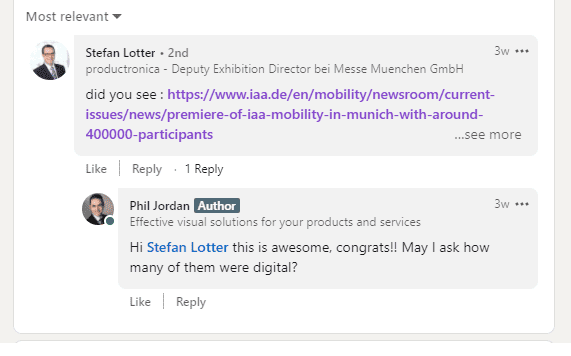 IAA21 also had much fewer international visitors and the famous speakers that fans of the auto show were used to. The New York Times analyzed this year's edition of the popular trade show. They were noting that many of the impressive exhibition halls were empty precisely because automakers like Fiat, Peugeot, and Jeep, did not take part this year.
Maison et Objet Trade Show in Paris
Maison et Objet, took place in Paris between 9.13 September. It is one of the top three interior design trade shows in Europe. There were only around 48,600 visitors on the trade show. Only 28% of the visitors were international. In comparison, this exhibition attracted over 89,400 unique visitors in 2018, and 50% of them came from outside of France. As for exhibitors, figures are even more cruel. In 2018, international exhibitors numbered 1,659, more than domestic and international exhibitors in 2021 (1,476). All this questions the reality of optimistic figures promoted by event organizers prophesying the quick recovery of the event industry.
Geneva Motor Show
Lower attendance rates sound like an achievement considering that many trade shows weren't held at all due to COVID-19 concerns. The latest example is the Geneva Motor Show. After being cancelled in 2020 and 2021, the organizing committee announced that the show will not be held in 2022, hoping for a 2023 return. According to officials, the COVID-19 pandemic poses persistent problems. The situation still isn't under control. Organizing an event the scale of the Geneva Motor Show indoors is still too risky. Exhibitors pulled out of the event in the early planning stages, citing the ongoing semiconductor shortage.
The Future of Trade Shows
It seems that organizers are struggling to attract the same crowds as in pre-pandemic times. Skeptical audiences, social distancing guidelines, travel restrictions, and lower exhibitor budgets are all challenges that have shaken up the industry and that will favor the growth of virtual exhibitions. According to Manuel Bortone from Bortone Marketing Consulting, big industry players should pay attention to these virtual trends. Mix of in-person and digital initiatives should become the norm:
I travelled to some trade shows in the last few weeks. It is definitely nice to meet people and discuss in person. But many of the big industry players were not attending and international participation is quite limited. It seems that what used to be "must visit" shows become national highlights only… This will need to be monitored. Today a mix of in-person events and digital initiatives for remote visitors gathering digital events and webinars, virtual showrooms, and other interactive animations should be the norm."
Earlier this month, we conducted a LinkedIn poll on the future of live events, and the results showed that there's a sense of looming uncertainty: 32% of respondents worry that digital events will cannibalize face-to-face events in the future (163 replies), and 30% that international trade shows may not survive COVID-19.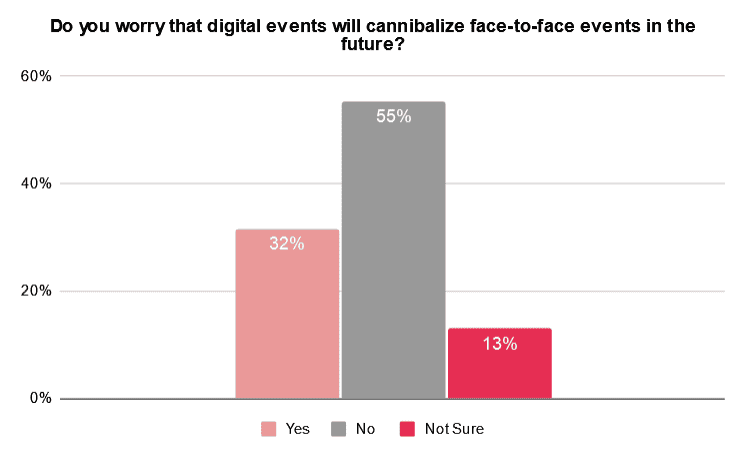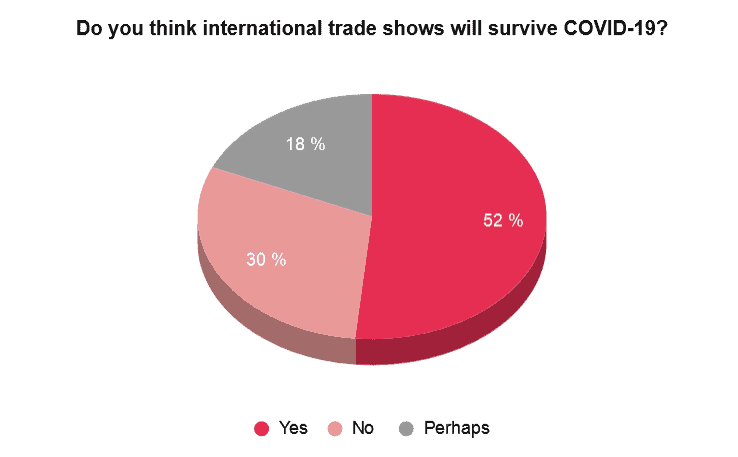 Abschluss
If there's one key takeaway we can underscore from this data, it's that the current state of events calls for new marketing strategies. Hybrid and digital events have had a major impact on the industry, and event organizers and exhibitors who do not adapt risk getting left behind. Businesses need to invest in digital actions to meet their clients and build relationships with them, such as creating virtual event platforms, virtual showrooms, and virtual exhibition booths that erase geographical barriers. Exhibitors must cover as much ground as possible and strive to achieve the best of both worlds as in-person events continue to diminish and be replaced by digital and hybrid interactions.
Please kontaktiere uns to learn more about the future of trade shows and the Dienstleistungen we offer.