We are proud to present one of our most innovative virtual showroom yet, which we believe showcases perfectly the versatility, efficiency, and cost-saving potential of AddVideos solutions.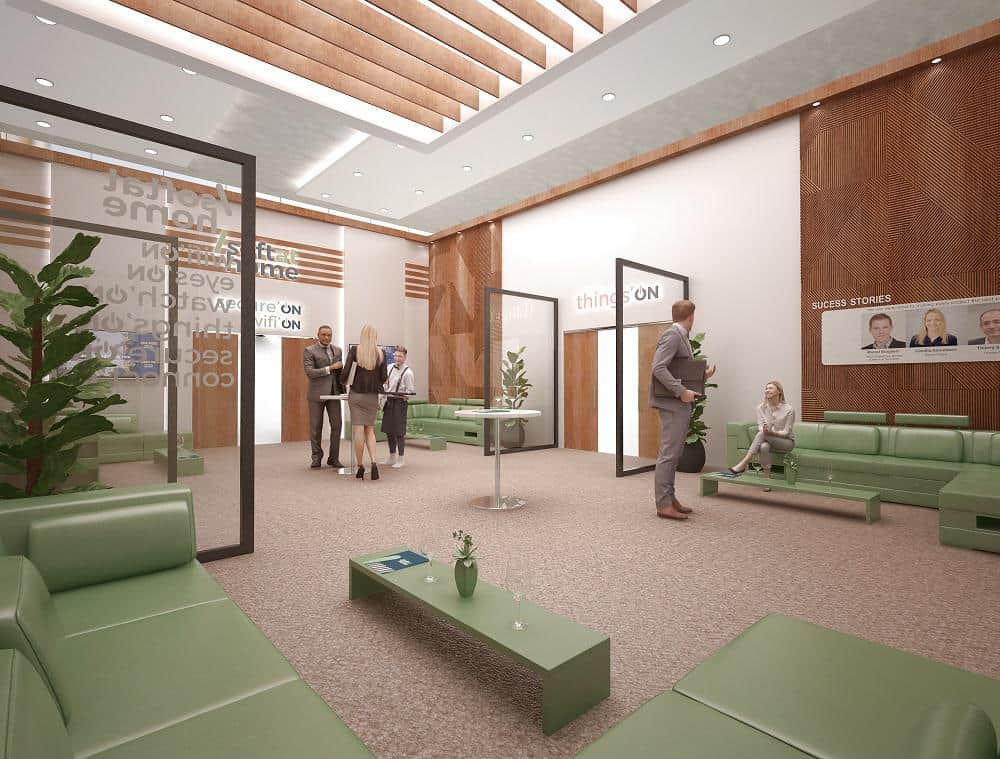 About SoftAtHome
SoftAtHome is an Orange Subsidiary that develops software products for connectivity, pay TV, Home Networking, and the Smart Home. They are present in Europe, the Middle East, Asia, and North America, supporting operators make homes smarter by deploying state-of-the-art Home Automation, Energy Management, and Home Monitoring services. As a company that operates around connectivity and digital life, SoftAtHome was very receptive to the potential of virtual showrooms and chose us to create a virtual showroom displaying their services. Originally, SoftAtHome planned to exhibit in four different trade shows: IBC, BBWF, CES, and WMC, all of which were cancelled or postponed, and the aim of this booth was to balance the loss of brick-and-mortar events.
Our Virtual Showroom Solution
The SoftatHome Virtual Showroom, which is hosted on AddVideos optimized servers contains five zones. These can be used by the exhibitor in different ways and unlock unique viewer experiences: four of the zones are external and one, called PRIVATE, or VIP, is in the middle.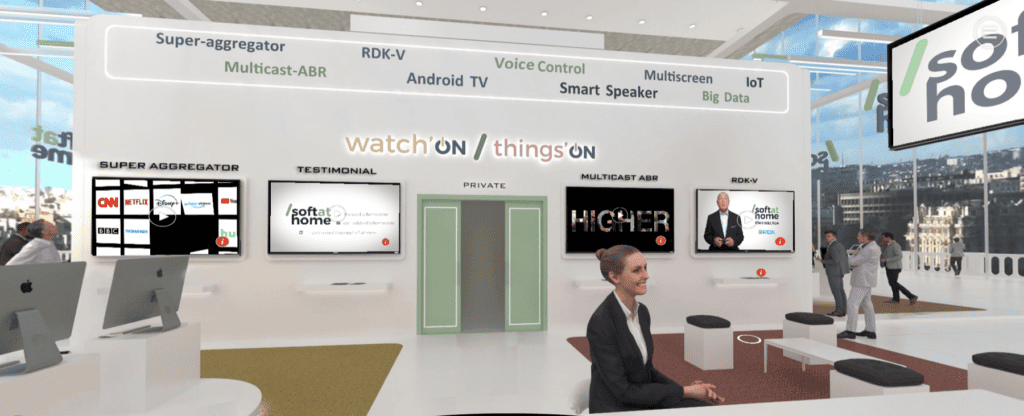 The VIP zone can be reached via each of the four zones if the exhibitor is willing to open it. For instance, it is now closed for the IBC trade show, but it can be opened partially only to VIP visitors, or opened completely for a future trade show.
The other four external zones can also be opened per trade show, depending on the exhibitor's strategy: for IBC, only one zone (the watch'ON / things' ON zone) was opened. But for the Broadband World Forum in early October, all four zones will be opened to the visitors.
Although the four zones have the same architecture, they are each customized so that they can be easily differentiated from one another: carpet colors are different, the keywords appearing at the top of the wall are all different, all the 3D-characters are different, and last but not least: all the content (videos, pop-up windows, brochures, etc.) is different per zone. This way, the viewers exploring the four areas have a highly personalized experience that boosts engagement.
Our Strategy
Our strategy was well thought out and, to truly localize the virtual showroom, we chose a realistic panoramic image of Paris as the background: SoftAtHome is a French company, and this backdrop perfectly conveyed their origin.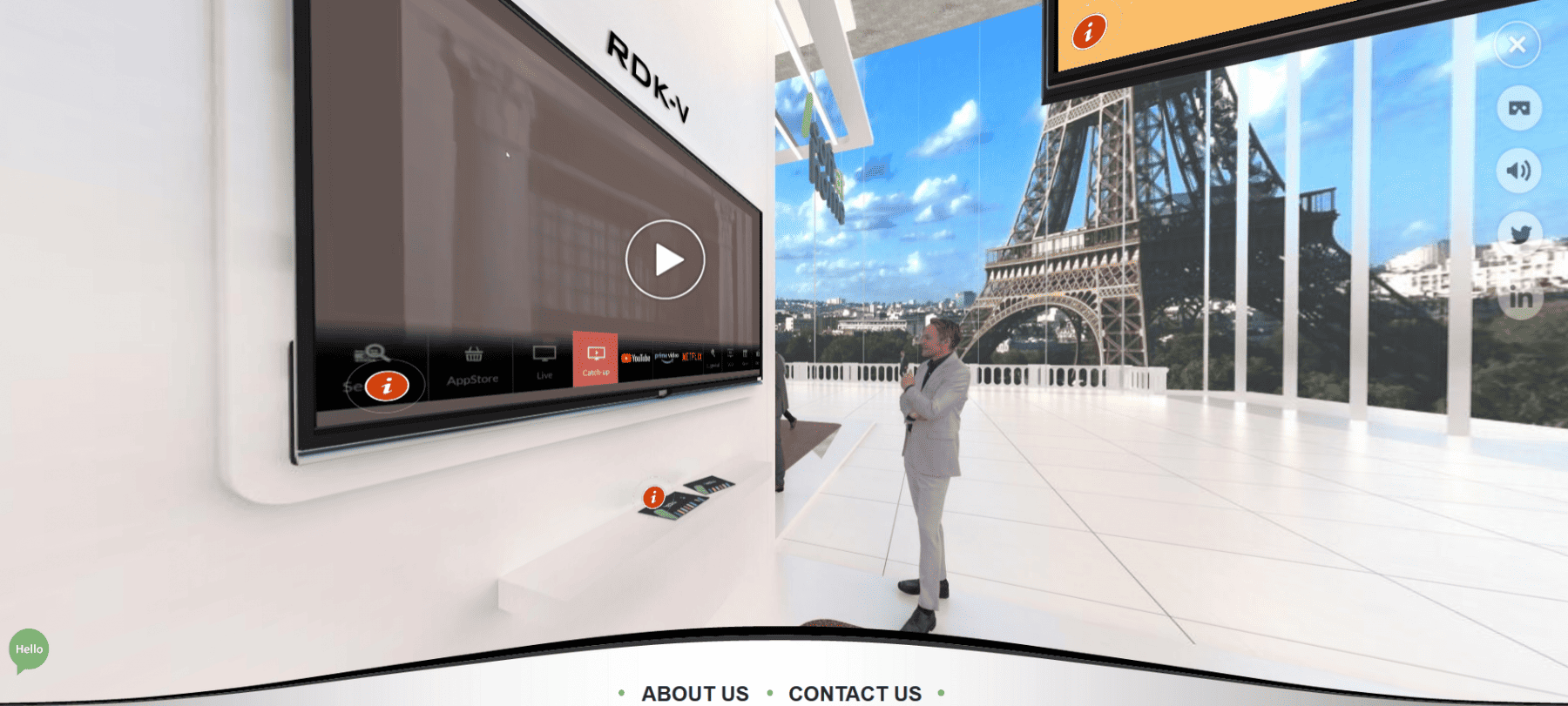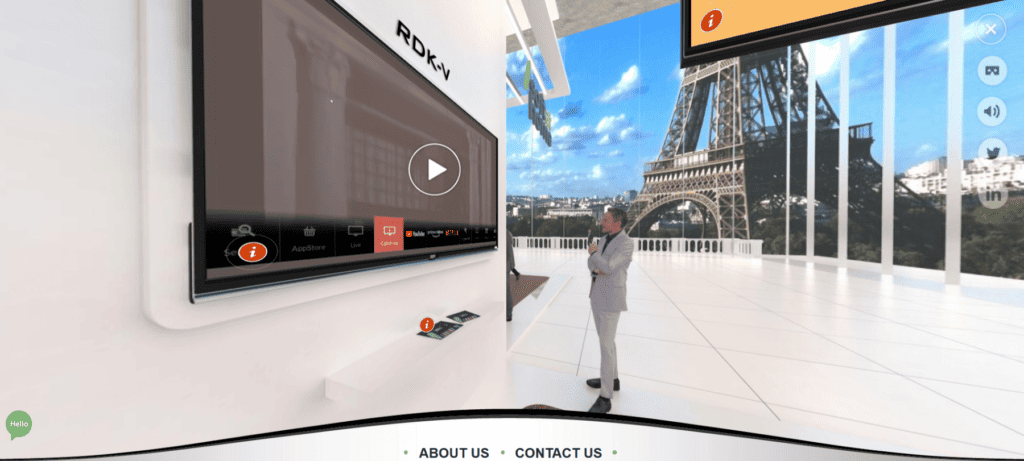 We're happy to say that we completed all of these within a month, and the result was a one-of-a-kind showroom that allows our client to host their demos in an innovative way.
With a single investment, the exhibitor is able to re-use their virtual showroom as often and as long as they want, according to their event's strategy. This is a super high ROI, especially compared to the costs of exhibiting at real trade shows.
The three videos on the wall were also developed in our agency. AddVideos is currently the only supplier offering all three services: virtual showroom, videos and interactive animations, and hosting, making it quicker and easier for the exhibitor.