As one of the most revolutionary visualization technologies, 3D visualization has a huge range of applications across many fields, more or less technical. Architecture is one of these fields, and one of the best examples that display the full extent of 3D's capabilities. From architecture firms and city planners to designers and real estate developers, businesses can find in 3D architecture visualization a versatile solution that can be used for promotion, planning and development.
According to Jose Corraliza Miranda, Manager of Visualization at AECOM, architectural visualization has become more important in the design process. If traditional visualization used to be one of the last steps at the production chain of a project, now, new technologies and rendering tools have made it possible for 3D architecture visualization to play a major role from minute one.
Types of 3D Architecture Visualizations
3D architecture visualizations can be static images: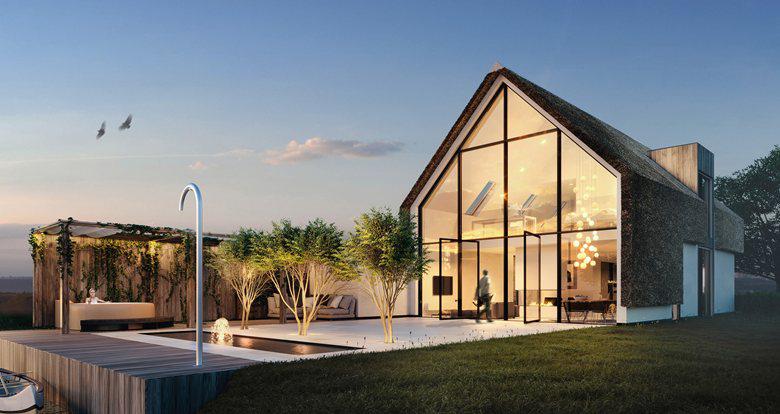 (photo credit: Archilovers)

Although not the most impressive display of what 3D technology can do in terms of promotion, static images do offer several practical benefits, such as the fact that they can be printed. For example, a real estate developer who is working on building a residential neighborhood can put up a billboard showing this image to raise the interest of potential buyer, or a city planner can show a banner around an area that's under construction so that residents can see what the result will look like.
However, it's the video format that allows 3D rendering to truly shine. Here, clients have several eye-catching options to choose from.
For example, 360 flythrough videos are very illustrative, offering a realistic overview of the building(s) about to be developed, from top to bottom.
Here is a visualization movie of a large-scale town development in Dubai:
Videos can be composed of static elements (where you see people, cars, clouds, water, etc. but nothing moves), or they can be animated, which are much more PC-intensive, as every single frame must be calculated. Both of these options can look great, but the choice depends on the deadline and budget of the client. For instance, animated videos are more complex and each frame can take weeks to be rendered, so static elements can be the better choice when working under a strict deadline.
3D interactive animations can keep the viewer engaged and help you boost your brand image. 3D interactive animations are perfect for showcasing something that hasn't been built yet, because they allow the viewer to explore each element at a time, as well as the whole ensemble.
In this example, you can see how the company uses 3D interactive animations to showcase various infrastructure projects. NASA Home & City is another interactive project where site visitors can click on all elements of a city or home to read more about the modern technologies that make our lives easier.
According to Scott DeWoody from Gensler, one of the world's top architecture companies, interactive is the future of design visualization, especially when combined with VR: "Suddenly, you can look up at a tower or you can walk into an atrium and see the light coming in and realize this is the openness we've been wanting to be made."
By combining 3D rendering with VR, architects can take clients on a virtual walk thru of their designs, allowing them to experience the project's potential in an immersive way.
Where are 3D Architecture Animations Used?
3D architecture animations can be used for both interiors and exteriors. Sometimes, a fly-through will combine both of them, starting from the surroundings of the building, with trees, parking lots, people, and then zoom in inside, where you can see the exact furniture.
To create these videos, production companies use the CAD, AutoCAD, or DWG client files, and start beautifying existing models.
Clients are usually architecture companies, which use these images/animations:
To promote their projects locally or internationally, and attract investors. Modern 3D renders can open up a new world of possibilities and bring in investors who are looking for high-quality work.
To win over competitors and acquire new clients. Thanks to 3D visualizations, the clients can be part of the design process, because their interaction and flexibility help them see exactly how the finished result will look like. They can see how a residential building, for instance, will change the look and feel of a neighborhood.
To help the architectural team understand the scope of the project and figure out how the creation should look like. Visualization is not only about the finished product that is shown to the client, but also about how the developers can use this tool when projecting. For example, having a 3D visualization from the beginning of the project can help architects notice important issues and improve the design, thus wasting less time and money.
Large architecture companies may have some departments to create basic pictures/animations, but will need to externalize for complex projects, as it is very much time consuming and would delay the actual development.
The images and animations used in 3D architecture visualizations can represent a huge array of buildings: shopping malls, schools, commercial buildings, apartments, villas, new residential or commercial neighborhood, factories and many others.
3D visualizations are also a great tool for real estate developers who want to promote the buildings/apartments under construction to potential buyers. In their case, static images are combined with 3D videos to create the ultimate preview to a client who's interested in buying. For example, when passing by a block of flats under construction, a person will see a large printed billboard of what the building will look like, then they will walk into the developer's office, where they can see a 3D flythrough of the building, followed by more detailed frames showing the apartments and even the furniture inside.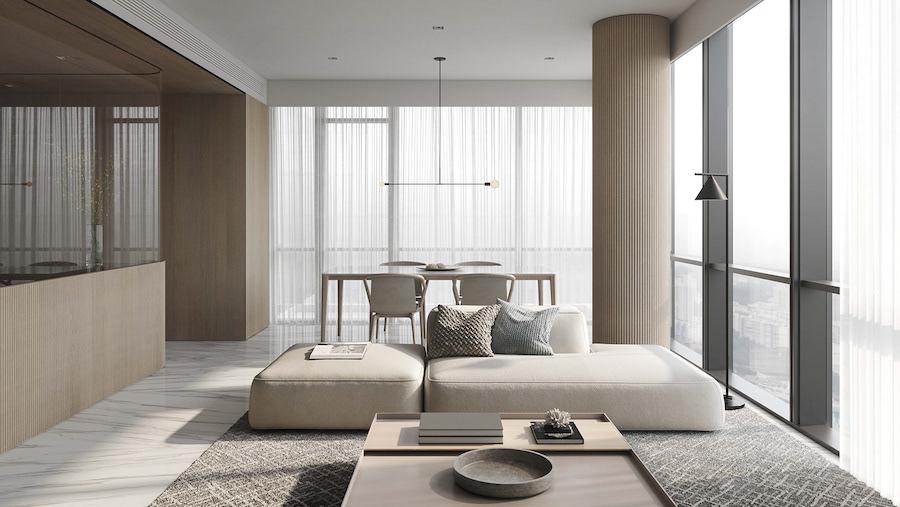 (realistic rendering for Wallich Residence in Singapore. Photo credit: 0932 Design Consultants @ Behance)
Many developers choose to upload these pictures and videos on their websites and social media pages, or send them to potential clients via personalized newsletters. Needless to say, they can also display them at real estate conferences to attract investors.
Tips For Creating Fantastic 3D Architecture Visualizations That Sell
Architectural projects can be incredibly complex, both in terms of the resources that go into developing them, and in terms of the impact that they can have on a local community. Therefore, the quality of the 3D visualizations used to promote them needs to be as high as the quality of the project itself. Using the wrong technique or failing to include enough details can undermine your promotional efforts, so it's important to know how to showcase your work.
For example, you can play around with different light exposition settings to understand how the same building will look like at different times of the day, or with different environments (e.g. with or without people/cars, with different weather, etc.). Why do this? Because when looking at the visualization, people don't want to see a cold, empty and abstract building. They want to see a projection of their future home or workplace. The rendering should feel personal, warm and inviting, and showcase the project's unique characteristics.
You also have the possibility to create photorealistic images and animations, which take a while longer to render, but which have a great impact on the viewer.
If this is your first time making 3D architecture visualizations, starting a "mood board" with your favorite examples is a great way to figure out what style you like. You can take inspiration from the world's best architecture companies and see how they use 3D visualizations to showcase their projects.
For example, this video of the City Master Plan for Vladivostok is a good source of inspiration for the use of flythrough animation and also shows how a video can capture the vibe of a city:
In 2016, Japanese architecture firm Nikken Sekkei was selected to design the new Camp Nou and their conceptual visualization perfectly captures the spirit of FC Barcelona by combining 3D flythrough with text, voiceover, real life footage and uplifting music:
Like any tool that can be used for promotion, 3D architecture visualizations should be made with your key target in mind: are you designing something for families, city dwellers, or for groups of professionals? In the end, your visualization needs to be in sync with the core values of the project and its unique vibe should be embedded in every pixel.