The COVID-19 pandemic was one of the most disruptive things to happen to the trade show industry. In a "new normal" of cancelled events, trade shows moved online, where digital formats offered continuity and access to more innovative features.
For brands and exhibitors, 2020 was a challenging year, with budget cuts and unprecedented circumstances. At the same time, 2020 was a time of discovery, innovation, and growth, as businesses discovered new ways of translating the trade show experience in digital formats.
We conducted a series of polls among businesses and events professionals about the way the pandemic impacted their events marketing strategy and the industry outlook, and the responses were incredibly interesting:
51% of business will reduce their event budget in 2021
Over half of businesses (51%) said that they will reduce their trade show budget in 2021. 37% said that the budget will stay the same, and only 12% will spend more on trade show participation.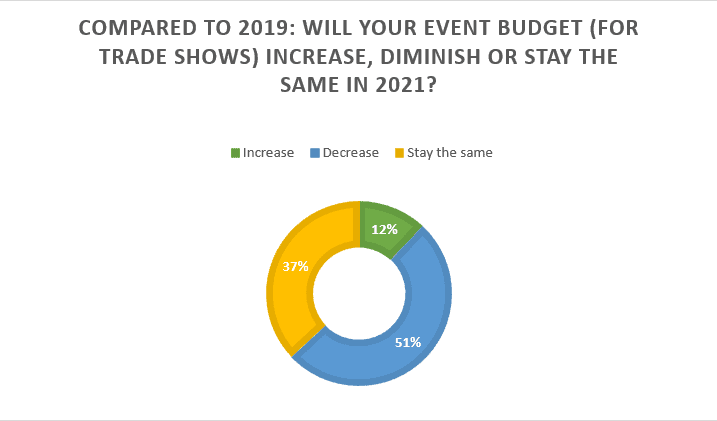 Total number of respondents: 41
54% of past exhibitors will NOT have an exhibit booth at a trade show in 2021
54% of past exhibitors don't plan to have an exhibit booth at a trade show in 2021. Only 6% of respondents (outside of trade show vendors) plan on doing so, while almost half of respondents (45%) are undecided.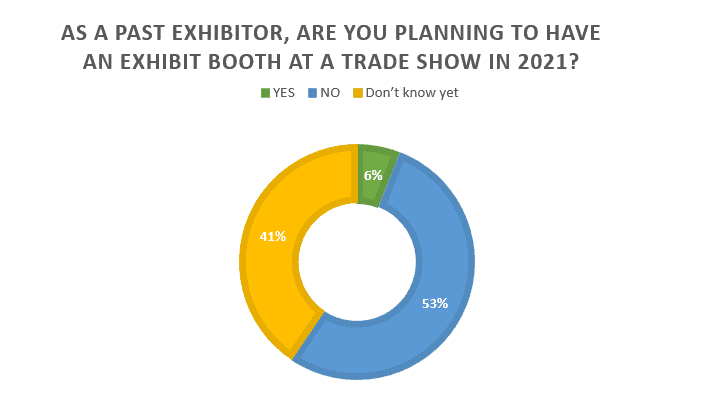 Total number of respondents: 69
68% of respondents believe that the pandemic will affect exhibitions forever
The majority of respondents believe that, once the pandemic is over, exhibitions will be changed forever (fewer exhibitors/visitors/trade shows), and only 32% expect things to get back to normal.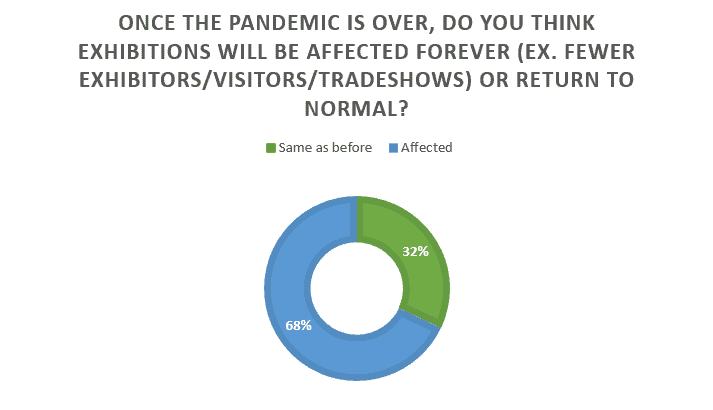 Total number of respondents: 189
50% of businesses will choose the hybrid approach (live events + digital alternatives) after the pandemic.
Once the pandemic is over, 45% of businesses plan to take part in live events and only 5% are prepared to switch entirely to digital alternatives. However, 50% intend to use a combination of both as part of their events/marketing strategy.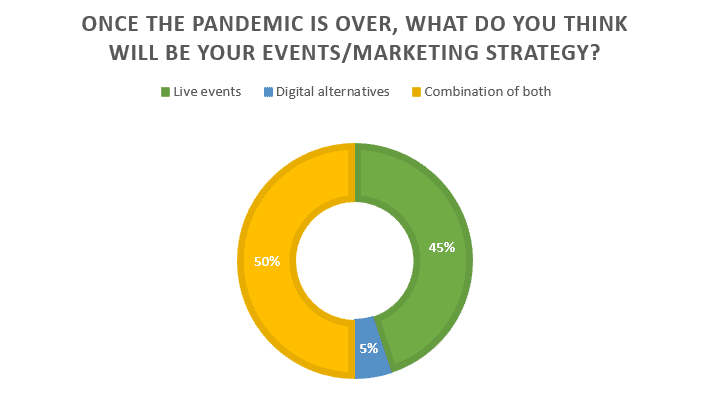 Total number of respondents: 100
Most respondents were unhappy with virtual versions of established trade shows
Virtual events have many limitations. During a January 2021 webinar, we asked participants about their experience with the virtual version of well-established trade shows, and most of them were unhappy.